About Us
Landscape Design and Installation Services
Dooling Landscape Service has been proudly serving homes and businesses in Santa Clara County since 1984. We install new landscapes. This includes installation of sod, plants, irrigation, pavers, concrete, fences, decks, waterfalls and ponds. We also renovate existing landscapes. This includes pruning, yard cleanups, demolition of old concrete and then sprucing things up with new plants and flowers. We also do landscape maintenance on commercial properties.
History
Dooling Landscape Service began serving homes and businesses in Santa Clara County in 1984. We began by doing custom installations and yard cleanups. Some of our employees have been with us since the beginning and their expertise shows in our work.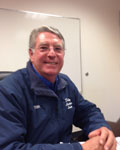 Meet the Business Owner: Tim Dooling
I graduated in 1978 from Cal Poly, San Luis Obispo, with a degree in Ornamental Horticulture. After several years in the nursery business, I began doing landscaping. I really enjoy the creativity that landscaping has allowed me. I enjoy working with people and creating a yard that people can be proud of.
While being a landscape designer allows me to use my artistic and design sensibilities and horticultural expertise, I never look at a yard in isolation. I integrate the needs and tastes of the homeowners with the look of the house, the way the yard will be used, and the kind and amount of maintenance that is practical. This enables me to create landscapes that work in terms of appearance, utility, and the upkeep efforts that the owners will be able to provide. I know that budgets and tastes differ widely, so I put in the extra time to know what the client wants and create a design that matches those needs to produce a landscape that meets these criteria. That is why we are the best landscape design company in the region.